Bring an Organizer for Your Clothes and Other Essential Accessories
March 21, 2020 at 04:30 AM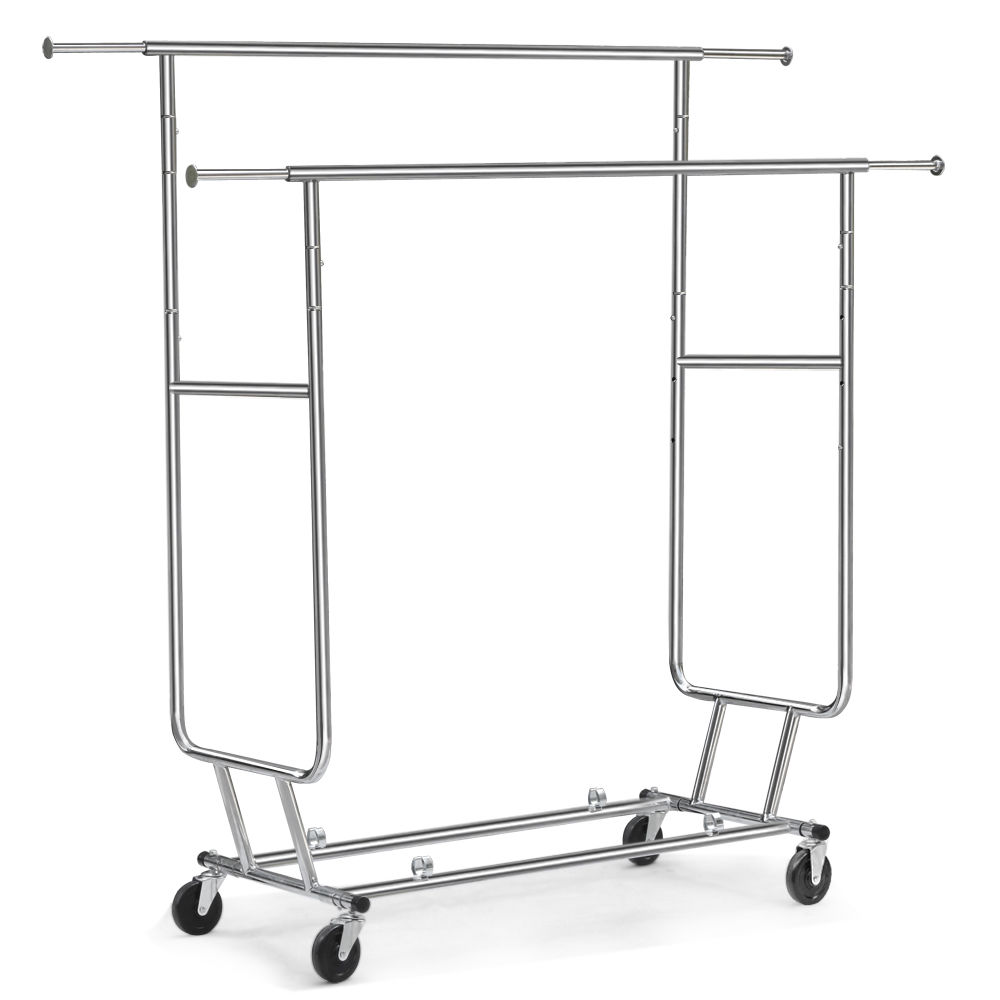 It is so important that your garments shoes and other accessories stay well arranged. Whether it is your bedroom or a retail shop, when garments are hanged on rails, caps are placed on sides, and jeans are kept folded on racks, it feels great to see things so well organized. Such an arrangement is possible if you purchase rolling garment racks. These racks are movable and so can be shifted. That means if you are having a single rail rolling rack at some place in your bedroom then you can simply shift it to clean the place. Later the rack can be brought back at the same place.
Keep Things AtYour Reach
When you are keeping items on a rolling rack then it means that you have them at your reach. So, when you are getting ready to go to office, your dress stays on the rack and you can easily find the items you need without having to search anywhere else. The rack eases your daily affair of putting on different clothes wherever you are going. You may have a different selection of clothes when you are going to a market or when you are hanging out with friends or while going to office. The rack keeps your clothes well arranged and you know which one to pick up and when. Even for stores, it works best because customers can easily pick up apparel they liked from the well-organized shelves of the rack.
Are You Forgetful?
Some people are seemed to get forgotten where they have kept their clothes after they change. It happens because they are absent-minded and are not in a habit of remembrance.You may also have a lot of things going on in your mind. So, it may happen that sometimes you forget where you have kept your clothes after changing them. It really irritates when you can't find them while you are dressing up to leave for work. The rolling rack, however, can help you overcome your forgetfulness. You can keep your clothes on the rack and stay assured that your clothes shall not be misplaced.
All Kinds OfRacks Are Available
You may wonder whether a single rail or a pipeline rolling rack shall serve your purpose.But, there are all kinds of rolling racks available such as branching racks, circular racks, and so on. So, you can choose any depending on your best fit. Retail stores are also seen to keep different kinds of rolling racks for a display of inventory based onspace availability. Based on your priorities you can also bring home a rack that will serve your purpose.
Heavy Duty Garment Racks
The garment racks are manufactured maintaining all standards with the use of stainless steel. So, it is not that they will fall down or will break if heavily loaded with garments and other items. You can keep clothes hanging on hangers and stack up the racks with all kinds of apparel.After loading the rack with apparels, tie, caps, suits, trousers, tops, shirts, blazers, etc. remember to line up your shoes in between the two wheels of the rolling rack. It looks good to have all personal belongings at one single point.
A Very Modern Look
Every rolling garment racks in Canada is made in an impressive style and designto make it look modern. There are steel racks, steel rails, steel bolts and steel fixtures fitted on the rack at different angles. So, when you place garments they appear in different styles and forms. It makes the racks highly impressive and the stored clothes stand out.This is very important for an apparel store. Having the rack at home means there is no hassle in pulling out a cloth or keeping items at hand's reach. Be assured that whenever you are in a hurry, the accessories you need to dress up can be found on the rolling racks.
Bring Wholesale Rolling Garment Racks and stay assured to accommodate a maximum load of 400 lbs per shelf. The four wheels are also locking wheels, so be sure that the rack won't move. You will have to unlock the wheels first to move your rack. The price of the rack is affordable and you can buy one for any purpose. You can keep it in a store or use it at your home. It won't be a problem buying the modern high-quality stainless steel racks.