Create Space Efficient Display with Slatwall Display Fixture and Its Versatile Accessories
April 08, 2020 at 01:52 AM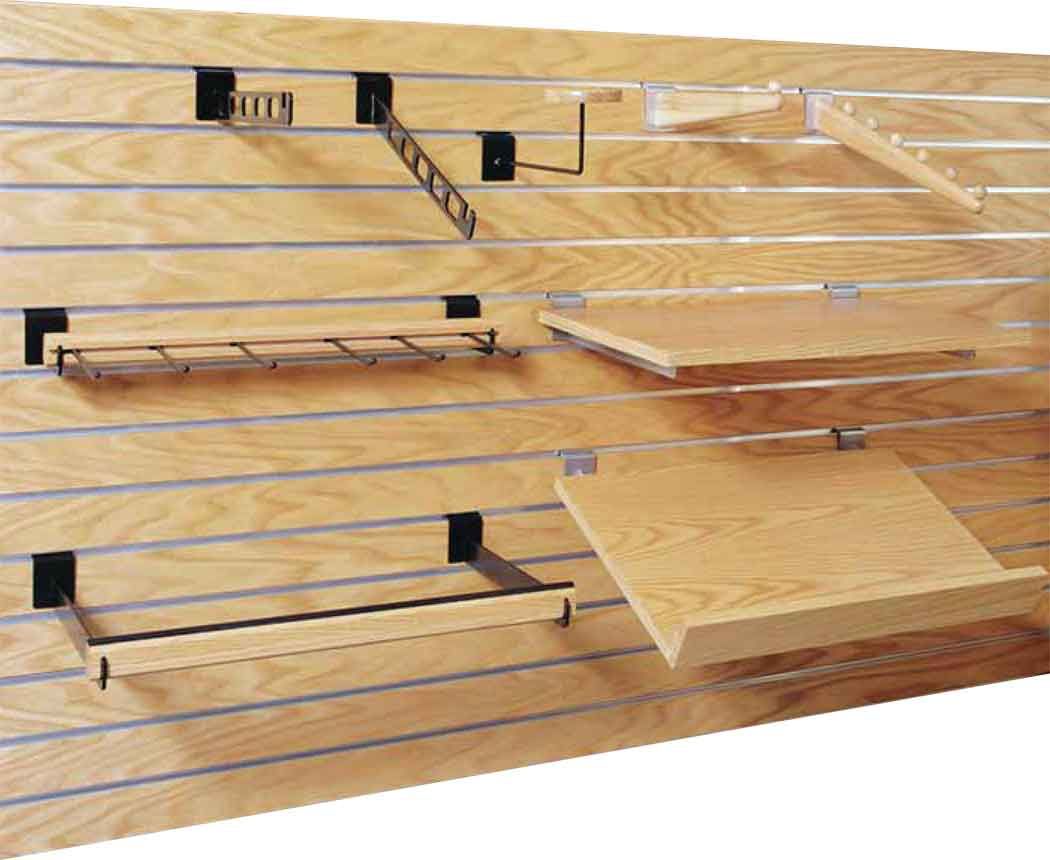 Retail store owners always look for such display fixtures that are durable and impart a professional look also. Moreover, they want display fixtures to be versatile so that they are easy to adjust as per changing inventory, the layout of the store and trends. Across the world, merchandisers believe that Slatwall display fixtures is the right answer to their display woes. Available in various shapes, sizes and color, it is one display fixture that has the power to change any bare wall into an attractive selling point. Depending upon the inventory and space available in a store, there is an endless scope of customization that gives them power to create their own unique display.
Easily Available Different Styles of Slatwall Fixtures
Freestanding Slatwall is one of the most popular choices amongst stores and businesses. It is easy to customize by adding Slatwall panels on both sides. Kiosks, Gondolas and towers with single or multi-sided configurations are space-efficient and give high visibility to any merchandise.

Countertop slatted merchandisers work wonder for point-of-sale items. The small-sized slat board stands are compatible with Slatwall display hooks for adding various kinds of merchandise in an appealing manner.

Wall-mount slatboard panels are common in every retail and commercial store. They are versatile and used for various purposes right from highlighting store merchandise to creating sales signange.
All these and many other kinds of retail Slatwall display fixtures are easily available for sale in Canada.
Slatwall Accessories: Driving its Versatility
Slatwall fixtures are durable and functional but the USP of the retail display fixture is easy to customize by using scores of accessories. By using dissimilar styles of accessories, it is easy to give a refreshing look to any store without spending fortunes of money. Let's take a look at various accessories of Slatwall display fixtures and their advantages.
Hangrails: Stalwall U Bar Hangrails are ideal choice to display heavy-weighted apparel like pants, coats, jackets, etc. The hangrails provide an easy view with no obstructions and used along with hangers for displaying apparel. Hangrails are available in a variety of standard colors like black, grey and white.
Hat Displays: If you are thinking where to display items like hats, use Slatwall hat display. It is one of the most versatile display items that can be used for displaying several clothing items in an apparel store including hats.
Hooks: It is one Slatwall accessory that is omnipresent in every gadget and stationery store. The Slatwall display hooks or peg hooks are available in various lengths varying from 4'' to 12'' and used for hanging lightweight as well as packaged items like batteries, candy, stationery item like scissor, etc.
Slatwall Baskets: If you want to display small-sized related items in one place, no option is better than Slatwall baskets. Creating mix and match style for an attractive presentation, some of the items that are the best to display in these baskets are sunglasses, rubber bands and clutches, etc. These baskets are made with wire, acrylic and many other materials and are available in various sizes and styles.
Slatwall Faceouts: Used with hangers, Slatwall hangers are used to display merchandise in an organized manner. This kind of retail display highlight different colors and sizes of one merchandise say coats in different sizes and colors. The main advantages with faceouts are they are available in various lengths and colors. Some businesses use waterfall faceouts for displaying purses or tote bags of various brands in one row.
Slatwall T-shirt displays, sign and literature holders, book displays and accent strips are some other common accessories used with Slatwall panels.
The two main things about Slatwall display fixtures are they are made from medium-density fibreboard. These fibreboards have impressive strength to weight ratio and are economical. These display fixtures are available in various finishing like melamine, real wood veneer, high pressure laminating and paint grade. Give weightage to factors like size of your store, the merchandise need to display, budget and store decor while choosing the right kinds of Retail slatwall display fixtures For Sale Canada based stores. An undeniable fact is Slatwall is rated as the backbone of most of the retail stores. This is one display fixture that is easy to find in a flower shop, stationery store and supermarkets. It is hard to beat its popularity in terms of durability, versatility and pricing. Moreover, this display fixture will continue ruling the retail display category for several years.