Enhance a Positive Experience for your Customers with Glass display cabinets
December 07, 2022 at 07:04 AM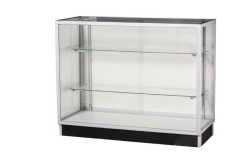 Promoting and selling as much high-quality merchandise as you can through efficient marketing and social media campaigns, as well as smart display techniques, is crucial in the retail sector. These techniques increase the number of potential customers who enter the store while also preserving patronage and engagement.
Despite being the primary emphasis, a company's products, the physical layout of a retail store has a significant impact on how customers perceive it. Shop surroundings, or atmospherics, have a big impact on customers. Many of the retailers surveyed agreed that these were useful tools for increasing customer satisfaction and differentiating their brands in the market. Planning store environments to create and enhance a positive experience was another outcome of the findings.
Such details highlight how crucial it is for architects and builders to design a place that is both practical and beautiful.
Recognize your target demographic
Any company that wants to sell a product must first identify its target market. A retail store's window display is a component of the marketing and sales strategy. As a result, designing effective window displays entails knowing how to appeal to your target market. It entails determining the needs and priorities of the consumer before creating window displays that reflect those priorities. Based on all the historical and sync data, the point of sale system will assist you in learning all those specifics.
Conceive of a distinct idea
A purposeful topic will almost always be advantageous. Everything is connected, and it rapidly grabs the user's attention. When coming up with a topic, try outlining some ideas on paper with a pen. Make sure you have a clear vision for your store window display before you start developing anything. Due to the numerous holidays and festivals in the spring, for instance, there is often an increase in demand for clothing stores' products. As a result, you can organise your storefront display to draw customers by using some spring window display ideas.
Try to tell a story instead of merely showcasing
Whether they have read, heard, or seen something like this, stories are substantially more effective at capturing and holding people's attention. Or to put it another way, people can remember stories. It applies to writing, speaking, and even window displays. Instead of just showing off your products, your displays should engage customers' curiosity and persuade them to enter. Even if they are unable to visit right away, they may recall your establishment and come back at a later time. This can be accomplished by selecting a theme and then looking for stories that relate to it.
How to Pick the Best Display Cabinets for Retail
When selecting retail display cabinets, it is important to first think about its intended use. Will they be storing fragile glass things out of reach or displaying priceless inventory behind locked doors? Or do you favour allowing customers to interact directly with the goods?
Consider your inventory levels in relation to the size of your area as a general rule of thumb. The purpose of the cabinets is another aspect to take into account.
Do you require a portable item that you may use to wander the business at will? Or do you prefer something that stays put? When limiting your options, take into account the versatility and portability of the cabinet. A glass display case is one item that has a beneficial effect on the atmosphere and design of a retail space.
We'll go over some of the promising advantages and features that glass display cases offer below, along with why these items are essential for any shop space.
7 Advantages Of Glass Showcases For Retail Stores
Retail establishments frequently have glass display cabinets, and for good reason. Since these cabinets are made to improve the overall retail experience, this type of shelving offers several advantages to employers, employees, and customers alike. Here are some explanations for why glass display cabinets are a common sight in commercial spaces.
They are successful in marketing your goods
Before you or any of your workers can even speak to potential clients, your products are advertised by glass display cases. They are quietly introduced to a large range of things to pick from as soon as they walk into your retail store. When consumers get a closer look, the display vanishes and the product takes centre stage. No matter how brilliant the design, a nice display case won't prevent customers from appreciating your inventory.
They enhance security and efficiency
No matter the size or style of the store, staff must always maintain track of inventory. Glass display cabinets make it easier to keep track of inventory and make sure each item has a place. Due to the fact that it would be obvious if an object was relocated or lost, this further strengthens security measures.
Products are safer from theft in display cases than they would be if placed on a regular shelf because the glass used there is frequently tempered for increased strength. Security from smash-and-grab assaults, which are common in high-end retail businesses, is another concern. Fabricators can assist in resolving this by using a unique UV-bonded tempered glass procedure to foil even the most cunning thieves.
Think about using laminated safety glass for further security. Instead of shattering into potentially harmful fragments when broken, this substance spiders out and holds together. This encourages a high level of toughness while simultaneously protecting both workers and clients from any accidents and injuries.
They foster a refined and elegant atmosphere
For stores with a particular theme, this is especially crucial. As much atmosphere is given off by the displays as by the walls and lights. Customer attraction is aided by a distinctive theme since people are drawn to the unusual. Glass cabinets come in a wide range of designs and options depending on the manufacturer.
They make customising and branding easier
To ensure consistent branding and customization, take into account decorative elements for added flair. These might include techniques like sandblasting, silk screening, and back painting.
Companies like Retail Depot can expertly cut and shape your display case to match current store designs, changes, and revisions for added versatility. In addition to offering basic back-painted colours, they can provide custom colour matching to go with your brand and/or décor for a more distinctive appearance.
Prior to tempering, think about applying any pattern, logo, design, shape, or picture on any glass retail display case using specialist sandblasting and silk-screening techniques.
They make shopping for goods easy for clients
Glass display cabinets essentially make it simpler and more straightforward for customers to view what you have to offer. Keep in mind that clients are more likely to return to your company or attract new customers if you make it simple for them to get what they need.
Options for Glass Display Cases to Make Your Products Glow
Working with a display cabinet provider that can successfully capture your products in a simple, yet decorative way is recommended whether you're showcasing pricey jewels and watches, shoes and apparel, or unique collectibles.
Glass display cases are a wise investment for any retail shop's interior design because of all these advantages. For your store, do you need some of these? Browse an excellent collection of modern, fully customizable display cabinets that are made to last by visiting companies such ss Retail Depot.