A Glance at the Most Sought-After Wall Display Systems for Retail Stores
September 15, 2020 at 06:20 PM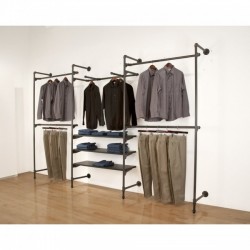 Most of the retailers feel retail merchandising is all about using displays like tables, stands, racks, end caps, etc., on the floor. They seldom realize the importance of using walls as prime retail spaces. The retail merchandising emphasizes to focus on every inch of the store and converting it into a sales medium. When floor space is limited and you have scores of merchandise to display, don't feel shy in making an investment in Wall display system. Even the owners of large-sized stores should harness the benefit of using wall displays.
Benefits of Using Wall Display System
Utilize Store's Perimeter: Regardless of the size of a store, it is necessary to use every inch of the store judiciously to increase sale of a store. Wall display racks utilize store's perimeter in a lucrative manner by capturing floor space. With these systems, it becomes easy for retailers to display lightweight items like magazines, store gift cards, snacks, etc.
Encourage Impulsive Buying: Every retailer wants to indulge his customer in impulse buying. However, customers buy only those products impulsively which they forget to include in their shopping list but buy them as soon as they view them. Such items are small in size and do not look attractive when displayed on stands and tables. Thus, utilize your wall area for hanging items like candy, batteries, stationery items, etc., with an effective wall display system. And, give them required exposure by placing them near customer cash wrap counters.
Huge Variety with Customization: Wall racks and other fixtures give a neat appearance to the store by keeping your merchandise in an organized manner. Moreover, wall display comes in various colors, shapes and sizes, thus you can choose them as per your budget and store's décor. Plastic and metal are two materials in which wall display usually come. Retailers can even ask for a customized fixture from online stores if they do not find fixture as per his requirements.
Now, let's take a look at the most popular wall display systems that are commonly found in every kind of retail store. Let's even discuss them one-by-one.
Slatwall Panels: It is one of the most versatile wall fixtures, which goes well with a variety of accessories like hooks, hangers and bars. With the help of Slatwall accessories, retailers can display any item from clothes, cosmetic products to electronic items. Moreover, they can change the layout of the store anytime by mounting arms and bars on different walls without using any tools. Because Slatwall panels are wall-mounted, therefore retailers can use their floor space to display heavy merchandise. The Slatwall panels are cost-effective fixtures and are available in various sizes.
Twin Slots: With the help of wall plugs, twin slots are screwed directly into the wall. These slots support upright construction which fix into the wall. The D-bars of the twin slots are attached with waterfall arms for creating a visually appealing wall display system. Just like Slatwall, even twin slots are versatile and allow retailers to change the layout of the store in the most hassle-free manner. Without using any tools, the fittings are easy to move around. Twin slots are durable and cost-effective, and are even available in variety of finishing including white or chrome.
Tube & Clamp Scaffolding: If you are looking for a slim and attractive alternative to scaffolding, tube and clamp display is the perfect pick. With the help of sockets, the tubes are mounted to the ceilings, floors and walls. Once sockets are screwed in, they are tightened completely by using Allen Key. This kind of display is ideal to choose if you are planning to display large and bulky apparel like jeans, jackets, coats, etc. When it comes to a cost factor, tube and clamp is neither expensive nor cheap. However, they make a good choice if you are willing to make a durable addition to your wall display collection.
Wall Bays: If you do not want to drill holes in your walls, pick free-standing fixtures like wall bays that are placed next to walls. This display fixture can hold any kind of merchandise as retailers can use them with a number of other display fixtures like pegboard or Slatwall backboard. Because these units are not wall-mounted, therefore prefer placing them near corners of the walls so that they do not capture much floor space. The wall bays feature metal construction, thus they are long lasting and more expensive than wooden Slatwall.
So, it is easy to conclude that using Wall display system is an effective retail and visual merchandising strategy that attracts customers and increases sales of a store. Retailers have a plethora of option to choose right from wall bays, Slatwall, tube and clamp and twin slots. Some wall display fixtures are expensive than other but impart a smart and organized look to merchandise.