What Makes a Tempered Glass Display Shelving a Perfect Choice for a Retail Store?
September 23, 2020 at 03:14 AM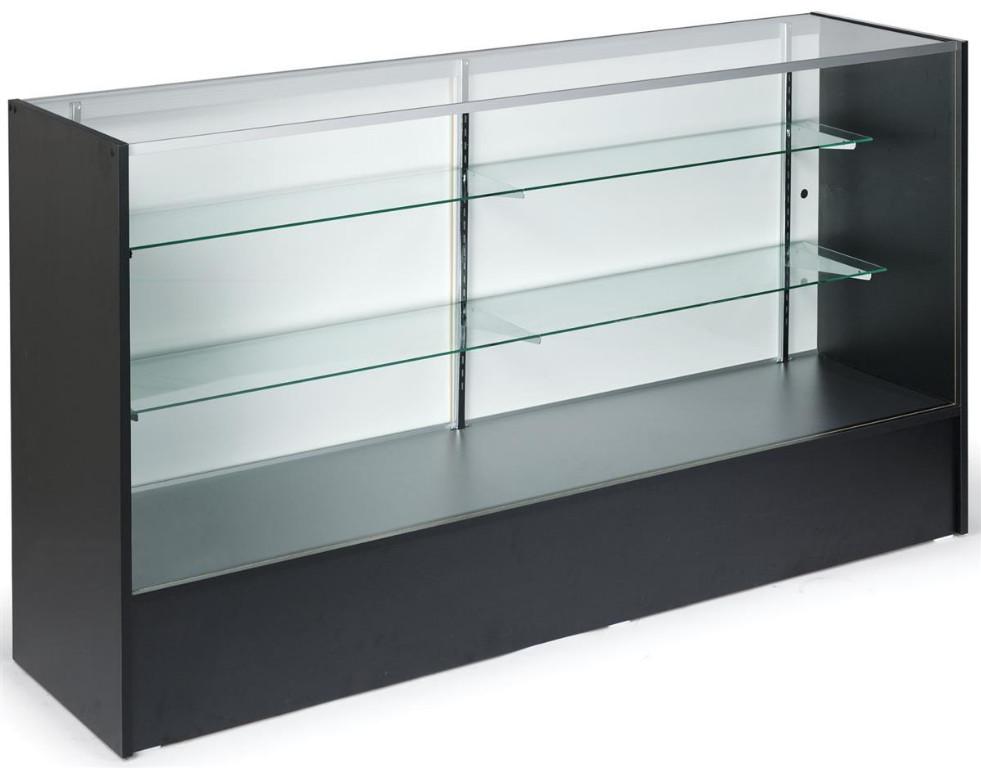 In the retail industry, display shelves play a vital role in showcasing merchandise. Some display shelves feature wooden material whereas others look classy with glass materials. The glass shelving units made from any one of three kinds of glasses: tempered glasses, standard or laminated glasses. These glasses have different characteristics and have varied applications. Let's understand them one by one:
Standard Glass: Standard glass is the most flexible kind of glass which is easy to cut, reshape, drill holes or polish edges as per requirements. It is because the standard glass is annealed with the help of annealing process that compels it to cool quickly. The standard glass is the most fragile in all categories, breaks into several irregular pieces and likely to cause serious damages or injury. Some of the standard uses of standard glasses are picture frames, cabinets, shelves, etc.
Tempered Glasses: The standard glass is heated in a tempering furnace to make it tempered glass. Heating the glass to 1200 degree F and then rapidly cooling it is one of the processes of making a tempered glass. This process is quenching. This process makes the tempered glass 4-5 times stronger than the standard glass and more resistant to breakage. Before this process takes place, the tempered glasses are pre-cut and polished. It does not cause any injury or damage on break down as it shatters into small pieces. Due to durability factor, retail stores in Canada popularly demand Tempered glass display shelving. These glasses are equally popular in residential settings and commonly installed in bathroom and kitchen for placing toiletries and expensive cutlery items respectively. Availability in different styles and colors like bronze, grey, frosted and black is another reason making them as the most sought-after choice to use in commercial establishments.
Laminated Glasses: It is like a glass sandwich, which supports different piles of glass with a layer of vinyl in between. The main advantages of laminated glass are it is UV-light transmission and easy to cut and polished its edges as per requirements. Laminated glasses have even excellent sound reduction properties. Like tempered glass, it is also safety glazing material and popularly used indoors, for making railings, sidelites, etc.
Though all three kinds of glasses are readily available in both online and offline marketplace, shelving units made from tempered glasses are the most popular in Canada. It is because the tempered glasses offer a series of advantages, which other glasses do not offer. These advantages are:
As far as strength and breakage-resistance power is concerned, tempered glasses are unbeatable.
It is inexpensive glass material offering several years of service.
It is an excellent choice for both commercial and residential purposes. Retail stores and homes prefer such glass shelves which look eye-appealing, affordable and durable. Tempered glass display shelving units stand strong on the following parameters.
It is available in the market in various sizes, thereby making it a perfect choice for making glass displays and showcases. Some of the common width sizes are 29'', 34'' and 46'' and depth sizes are 8'', 10'' and 12''. The standard thickness of a tempered glass is 3/16''. But retailers can specify their requirements for obtaining a customized size.
Now, let's take a quick look on which tempered glass featuring display fixtures a Canada based retail use besides shelving units:
Showcases: These kinds of display fixture are ideal for placing a large number of collectibles. A showcase is available in various sizes and has multiple shelves for storing different sizes and kinds of collectibles.
Retail Counters: Many cash wrap counters feature tempered glass. This kind of counter is a great choice for keeping merchandise right in the front of customers. During billing, customers have a look on them and even purchase if they like the high-value items.
Pedestals: Grab customers' attention immediately if you want to promote any new or the most expensive merchandise in your museum by placing them on a tempered glass pedestal. The pedestal acts as a single point of attraction when placed centrally.
All these display fixtures have built-in lighting, adjustable shelving and locking doors.
So, it is easy to conclude amongst laminate, tempered and standard glass, the tempered glass is an ideal combination of visibility, safety and durability. When it comes to showcasing your expensive collection, either choose tempered glass display shelving or showcases or pedestals made from tempered glasses.