Change Retail Store Environment by Using Mobile and Convertible Store Fixture Systems
May 15, 2020 at 08:08 PM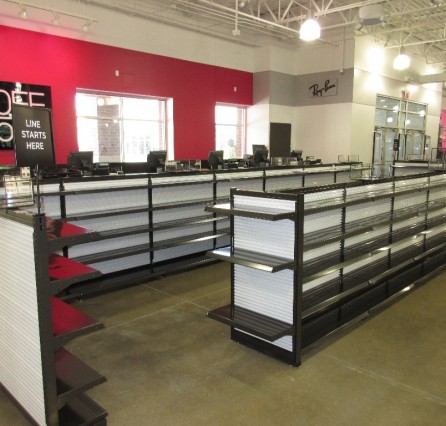 With the on-going trend of online shopping, brick-and-mortar stores are making significant attempts to woo existing and prospective consumers. For this, retailers are taking strategic measures to attract them and offer a unique shopping experience. Amongst several strategies implemented, using interesting and flexible store fixture systems is a clear winner.
It is the need of the hour for retailers to respond with the evolving trends of the retail merchandising and incorporate it into their stores to keep sales going. Some retailers are changing the layout of their retail store or repurposing the sales floor by using existing display fixtures whereas others are buying stylish and unique Store Fixture Systems from Canada based online stores. Unlike before, now retailers are selective and paying special attention to the designs of store fixtures. They are looking for functional, attractive, cost-efficient and space-efficient fixtures. Especially if a retail store has limited space, the retailer is looking for portable fixtures that are easy to organize as well as re-organize as per merchandise and store layouts.
Popular Store Display Fixtures Options
Anything a retailstore houses or promotes comes under retail displaying. To create a memorable shopping experience for customers, it is important to focus heavily on stylish fixtures as they establish a connection between the product and the shopper. Let's understand this basic fact with this example: you are in an apparel store looking for jeans. As soon as you enter the store, you saw jeans hanging on hooks even from a long distance. This solves your purpose, as you know where you will find your item of interest. This saves your time and solves the retailer purpose also by highlighting the store's merchandise in an inviting manner. This is the main reason retailers are spending heavily on buying different styles of store fixture systems like dump bins, free-standing displays, window displays, gondola displays, shelf takers, etc. These fixtures are large, provide a clear display from distant places and cost-efficient also.
One of the trends catching pace in retailing is investing money in such fixtures that accommodate quick changes with the changing store's needs. These fixtures are:
Mobile Fixtures: One of the best examples of mobile fixtures are table tower. This kind of display system is perfect for product demonstration, merchandise display as well as for disseminating important information about the new product. As per the required marketing messages, the fixture is easy to change with incorporates signage panel. This type of store fixture system is easy to move with caster wheels and the best way to feature seasonal merchandise and indulge customers in impulse purchasing.
Convertible Fixtures: Certain convertible fixtures are easy to convert in different fixtures as per merchandise and store requirements even without using any special tool. For instance, many fixtures are easy to convert either in a dump bin or a three-way display with hooks and shelves to display merchandise in accordance with the change in season and demand. These fixtures are flexible and easy to change in the desired style in no time. To add further, they are equipped with caster wheels ensuring hassle-free movement.
Folding Fixtures: Folding fixtures is an excellent way to display merchandise with limited stock. These fixtures are space-efficient and easily fold into a compact unit as per stock availability.
Decorating a store with a flexible fixture system offers a range of benefits right from reducing rebuilding cost, provide innumerable opportunities to cross-merchandise to meeting multiple merchandising needs. These display fixtures need to place strategically in high traffic areas with seasonal products to maximize sale opportunities.
What to do when retail displays not working?
There are numerous instances when in-store retail displays do not work effectively. The possible reasons are:
Using one-dimensional fixture imparting unclear view of placed merchandise.

Adding too many items on a display fixture resulting in distracting customers' attention.

Not creating the required space between two expansive merchandises

Interactivity is missing due to which consumers unable to experience the product.

Give a new look to your store monthly either changing the display position or unusually displaying merchandise.
So, if you think that even your retail in-store is unable to excite the existing and prospective customers, do not make a delay in purchasing high-quality store fixture systems from Canada. Do not forget to browse the entire category of display fixtures before making a final purchase.