Showcase your Merchandise in Organized and Unique Manner with Slatwall Display Fixtures
July 16, 2020 at 11:30 AM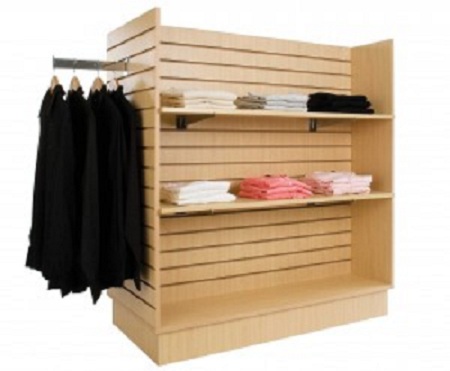 Retail merchandising is all about using such kind of display fixtures, which look beautiful and are space-efficient. Store owners are heavily investing in those fixtures, which give them flexibility to display multiple kinds of merchandise in a unique manner. Slatwall units offer such a level of the flexibility and are easy to incorporate in all kinds of the retail environment. Slatwall display fixtures are omnipresent not only in a retail store but in shopping malls, flower shop, schools and even residential settings also.
Made from high quality medium density fibre board (MDF), Slatwall displays contain multiple rows of slats also known as horizontal grooves. These slats are fitted with aluminum inserts for placing both light and heavy weight merchandise. These grooves play the role of anchors for shelving units and are even usable with multiple accessories like acrylic magazine racks, hooks, etc. The Slatwall panels can be fitted into the wall or easy to use as a free-standing unit in a spacious retail store. To elevate the décor of different stores, retail Slatwall display fixtures available for sale in Canada are easy to shortlist in woodgrain finishing in different colors and sizes.
Benefits with Slatwall Display Fixture
Durability: This is one of the retail fixtures with impressive life expectancy and difficult to damage even during transportation. The display fixture is durable and easily holds any merchandise ranging from apparel, electronic items to toys and shoes. Wall-mounted slatwalls are capable of bearing the weight of bulky products including bikes.
Versatile: There is no single way to use Slatwall in the retail environment. As per store requirements and merchandise, use Slatwall display fixtures with a range of accessories. Even if you are using free-standing units, they are easy to uplift and clean in a hassle-free manner.
User-Friendly: If you want to use pegboards with Slatwall, you do not require any toolbox. Simply after assembling your fixtures, use hooks for displaying your merchandise.
Attractive Design: Another advantage with Slatwall fixtures are they are available in a variety of styles and color finishing. Moreover, they are easy to customize further as per store's requirements. This implies you can use the Slatwall panels in colors and sizes as per your requirements and even change them from time to time cost-effectively for changing the look and feel of your store.
Affordable: Believe it or not, slatwalls are cost-effective as compared to other retail display fixtures. A store owner will find higher rated boards in an expensive category, but even they are worth every penny.
Accessories and Attachments
It is not wrong to say that attachments and accessories of Slatwall fixtures actually drive their versatility. By changing accessories from time to time, you can use one fixture for displaying beauty products at one time and small electronic accessories the other. The best thing is retail slatwall display fixtures accessories that are easily available for sale in Canada based online store are:
Hangrails: Slatwalls with hangrails are the best way to showcase heavy weight merchandise like jeans, shorts, coats and pants. Hangrails are commonly found in an apparel store and provide the clear view of the merchandise from all sides.
Peg Hooks: The peg hooks are available in various lengths from 4'' to 12'' and even more. Use these hooks for displaying low weight merchandise like socks, shorts, electronic accessories, beauty products, batteries, jewelry, etc.
Straight Faceouts: These accessories are small in size and used for displaying two or three items of the same merchandise in different colors or sizes.
Shelving: Shelving units with Slatwall display fixtures make a wonderful combination easy to use both as a wall panel or free-standing units. These shelving units come with curved or flat lip and in different materials including acrylic and melamine.
So, it is easy to conclude that a retail store has endless choices for display fixtures, but most of them feel that Slatwall display fixtures forms the backbone of effective display. Even other retail display fixtures are good to use in a store, but it is hard to beat the Slatwall in terms of durability, ease of use and versatility. The presence of Slatwall is not confined to retail stores; residential garages, flower shops and schools are also realizing their importance. Available in various sizes and color finishing, choose the one that enhances your store décor and fit in your budget.